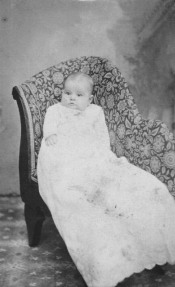 Lilly M. Woodbridge was born 18 May 1884 in Lansford, Carbon County, PA. She married my great-grandfather, Rees Johns, 10 Dec 1903. I know very little about her as she passed away when my grandmother, Lucy B. John, was only 12. However, it is the Woodbridge branch of the family about which I have the most information. I had done some research and determined that the Woodbridge family had lived in Maine at the time of the birth of Lilly's father, Luther Woodbridge. I placed an advertisement in a local Maine newspaper stating that I was researching the family and would welcome any information that anyone might have. Much to my surprise, I received several responses to this ad. One woman who replied was a distant cousin who had done extensive genealogical research.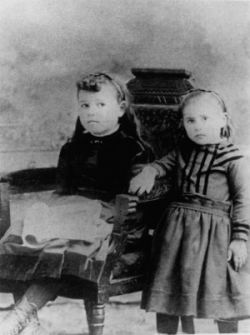 I was able to visit with her at her cottage in Damariscotta, ME (near where many of "my" Woodbridges had lived). She took me around and showed me the various churches that family members attended told me of the cemeteries in which they were buried. She also provided information on this family back to the 1500s in England. I have yet to substantiate this information on my own, however I intend to do so as time permits.
Lilly's father, Luther Woodbridge, served in the Civil War in New York's Black Horse Cavalry. The Woodbridge family has early roots in the United States. Further back in the family tree there are members who fought in the American Revolution. The maternal grandfather of Thomas Woodbridge, Sr. was Thomas Dudley, the second governor of the Colony of Massachusetts.