The first person born in this century on the Haney branch of my family was my Grandfather, Delmar Smith. Born 19 June 1900 in rural Madison County, Virginia, he was the seventh of nine children born to Carrie Belle Gooding and George Edward Haney. Delmar only went to the 7th or 8th grade in school. Census information shows that his father was a farmer and I'm sure he was needed to help on the farm.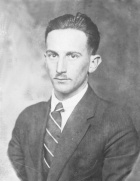 In his late teens he was "recruited" by the DuPonts. The Dupont family sent people to different farm areas to get help for their horse and cattle farm in Newtown Square, PA. Mrs. DuPont was the one who hired him. He said that she was a very nice person to work for. He used to travel in the train car with the horses when they took them to shows. However, for some reason, he quit working for the DuPonts when he was in his early twenties. After working at various other jobs he started working for the Post Office in 1926. He had a very large rural route and he remained a mailman until he retired in 1965.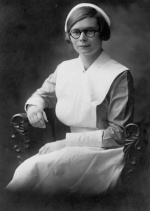 During the 1920s, Newtown Square was a fairly rural suburb of Philadelphia. There were not a whole lot of available single women in the town. A bachelor friend of my grandfather suggested that they go to Philadelphia General Hospital School of Nursing, because there were a lot of single women there. Alas, there were. One of whom, Emily I. Sober, caught the eye of my grandfather. They were married 16 September 1931. The two of them lived in the same home, which they had built, for their entire marriage. They had a happy marriage, were active in The First Baptist Church of Newtown Twp., celebrated 64 years of marriage, had four children, eight grandchildren, and five great-grandchildren before they both died in 1996.
See the Haney Family Photo Album