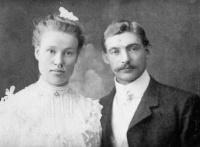 The first marriage in my family in the 20th century was that of Atwood Isaac Sober and Adda Rebecca Fasold. They were married 16 September 1902, in Augustaville, Northumberland County, PA. Adda was 25 years old, having been born 29 January 1877. Atwood was 24 years old; born on 29 November 1877. According to a family Bible, they were married in Augustaville, Northumberland County, PA.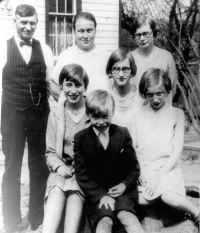 They had four daughters and one son, Athey I., who was born when Adda was 46 years old. (Now that's a crazy lady.) Unfortunately, Athey died while in the service during W.W.II on 12 April 1944. This branch of the Sober family name stopped with Athey, as he never married nor had children. The daughters, Emily I., Ruth F., Grace A. and Mary E., did marry (two of them also married on 16 September) and they all did their share to give grandchildren to this couple.
They both lived until 1963. Adda died on 12 March. Atwood died 11 May.